After attending several celebrations honoring the 210th birthday of Illinois' favored son, Abraham Lincoln, I got a great email from a U.S. serviceman in Iraq with the header: CLASSIFICATION: UNCLASSIFIED.
"I am currently deployed in Taji Iraq," CSM Lester Edwards wrote. "When you deploy you select a team call sign, we selected 'Task Force Lincoln' otherwise known as Lincoln's 44 (there are 44 Soldiers on the team)."
"The reason for this message is to let you know that I saw the celebration of Lincoln's birthday on your Facebook and wanted to let you know that we celebrated here in Iraq as well," Edwards wrote. "I encouraged the Dining Facility to bake a birthday cake for the event. They baked a delicious cake the Commander and I cut the cake."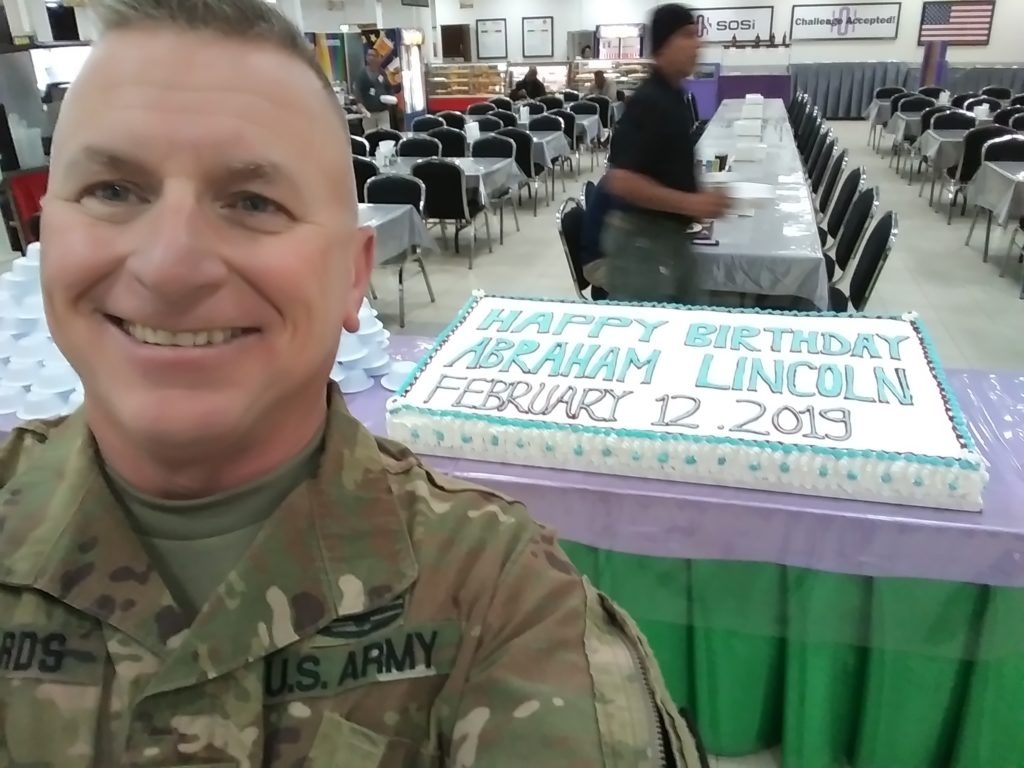 How cool is that!?!
Come home safe soon, Lester! And thank you and your men for your service! Lincoln would be proud and honored I'm sure!
Tuesday was Lincoln's 210th birthday and in Springfield, it's a big deal. It's great to see it's also a big deal with U.S. service members serving overseas.
As part of the celebrations in Springfield Monday Meghan and I attended a great talk.
Tuesday, for news coverage, I attended a wreath laying ceremony at Lincoln's Tomb at Oak Ridge Cemetery where Gov. J.B. Pritzker made remarks.
Pritzker was also sure to rub Lincoln's nose. Watch:
Capping off the celebrations was a banquet where various dignitaries attended to honor the slain president.
For those who don't live in the Springfield area, I'd encourage you to make the trip and check out the rich history of Lincoln's lasting legacy.